Toyota Oxygen Sensor
Brand :Luanbo
Product origin :Guangzhou
Delivery time :5-10 working days
Supply capacity :10000pcs/Month
Toyota (89467-33120) Air Fuel Ratio Sensor is mainly by measuring the oxygen content of the engine exhaust to determine the fuel and air mixture is too thick or too thin, to maintain the concentration of the mixture in the ideal state.
Toyota (89467-33120) Air Fuel Ratio Sensor
Fit to:Toyota camry 3.0
Weight:250g
Number of circuits:4
Thread Size:M18x1.5
Oxygen sensing is an important component on engine that use ternary catalytic converters to reduce
exhaust pollution and now as a standard on the vehicle. In order not to affect the air furl ratio sensor
chip data,our use no-dust workshop to produce the sensor.
Oxygen sensor advantage:
1. With imported platinum paste, oxygen ions react quickly.Built-in heater with very short light-off
time.Therefore, the vehicle has enhanced power and better performance,responsive.
2. Oxygen sensor controls the oil control ratio within the optimum range to make the fuel more
fully,improve fuel efficiency and achieve fuel economy.Reduce pollution and harmful gas emissions.
Oxygen sensors (air-fuel ratio sensors) are a common problem in many vehicles. A P1155 or P1135
code indicates a bad sensor. This is common in Toyota and Lexus cars and trucks. Learn how to test
the air-fuel ratio sensor to see if it is bad and then learn how to replace the bad sensor.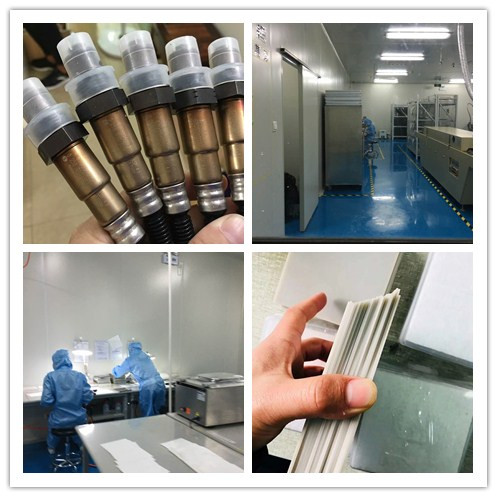 The oxygen sensor uses ceramic sensitive components to measure the oxygen potential in various heating furnaces or exhaust pipes. The corresponding oxygen concentration is calculated by the chemical equilibrium principle to monitor and control the combustion air-fuel ratio in the furnace to ensure product quality and exhaust emission standards. Measuring components are widely used in various types of coal combustion, oil combustion, gas combustion and other furnace atmosphere control. It is currently the best combustion atmosphere measurement method, with the advantages of simple structure, rapid response, easy maintenance, convenient use and accurate measurement. Using this sensor for combustion atmosphere measurement and control, it can not only stabilize and improve product quality, but also shorten production cycle and save energy.
Get the latest price? We'll respond as soon as possible(within 12 hours)